Spring 2023 Update
The Point Conception Institute
Collaboration, Open Science and Technology for Conservation Impact
Research Highlights
The Point Conception Institute (PCI) has now facilitated more than 70 research projects, establishing relationships with principal investigators and research partners from more than 20 institutions (see PCI Research tab). The interest of leading research institutions is testament to the scientific opportunities at the Dangermond Preserve and to the potency of PCI as a collaboration catalyst. In particular, the University of California, Santa Barbara (UCSB) research projects funded by the Zegar Family Foundation have created valuable learning opportunities for PCI in developing an innovative approach to high-impact scientific collaborations.
New Projects
Marine resource use by small mammals—Katie Elder, Dr. Tim Bean, Cal Poly SLO
Prescribed fire planning, implementation, monitoring—Dr. Elizabeth Hiroyasu, Moses Katkowski, TNC, UC Berkeley, UCSB, UC Extension
Seal haul-out camera monitoring—Dr. Chris Lowe, Shark Lab, CSU Long Beach
Marine to terrestrial ecosystem subsidies on the Gaviota Coast—Dr. Hillary Young, Zoe Zilz, UCSB
Headland bypass dune ecosystems and sand transport analysis—Dr. Ian Walker, Maddison Heffentrager, UCSB
Linking freshwater ecosystems to wildfire risk, a new NASA grant—Dr. Ben Halpern, NCEAS, and Dr. Kelly Easterday, TNC
Spotlight: Groundwater Research
UCSB Bren School Associate Professor Scott Jasechko and colleagues published an important study in Nature Communications on analysis of thousands of groundwater wells (including wells at Dangermond Preserve). Their research shows that modern groundwater is being pulled deeper into heavily pumped aquifer systems, potentially endangering deep groundwater quality.
Coming Later in 2023
We have been hard at work on renovations and construction of the PCI Field Station at Dangermond Preserve. Thanks to our visionary donors the Zegar Family Foundation, the Zarcades Family Foundation and the Jack and Laura Dangermond Conservation Foundation, PCI will have much-needed research facilities and overnight accommodations later in 2023.
Update: Project Shift—NASA-UCSB-TNC PCI Research
In September, NASA-JPL led a convening of Project SHIFT (Surface Biology and Geology High Frequency Time Series) at the National Center for Ecological Analysis and Synthesis (NCEAS) in Santa Barbara. More than 40 researchers from NASA, UCSB, UCLA, TNC, the University of Wisconsin and other institutions participated in the two-day conference.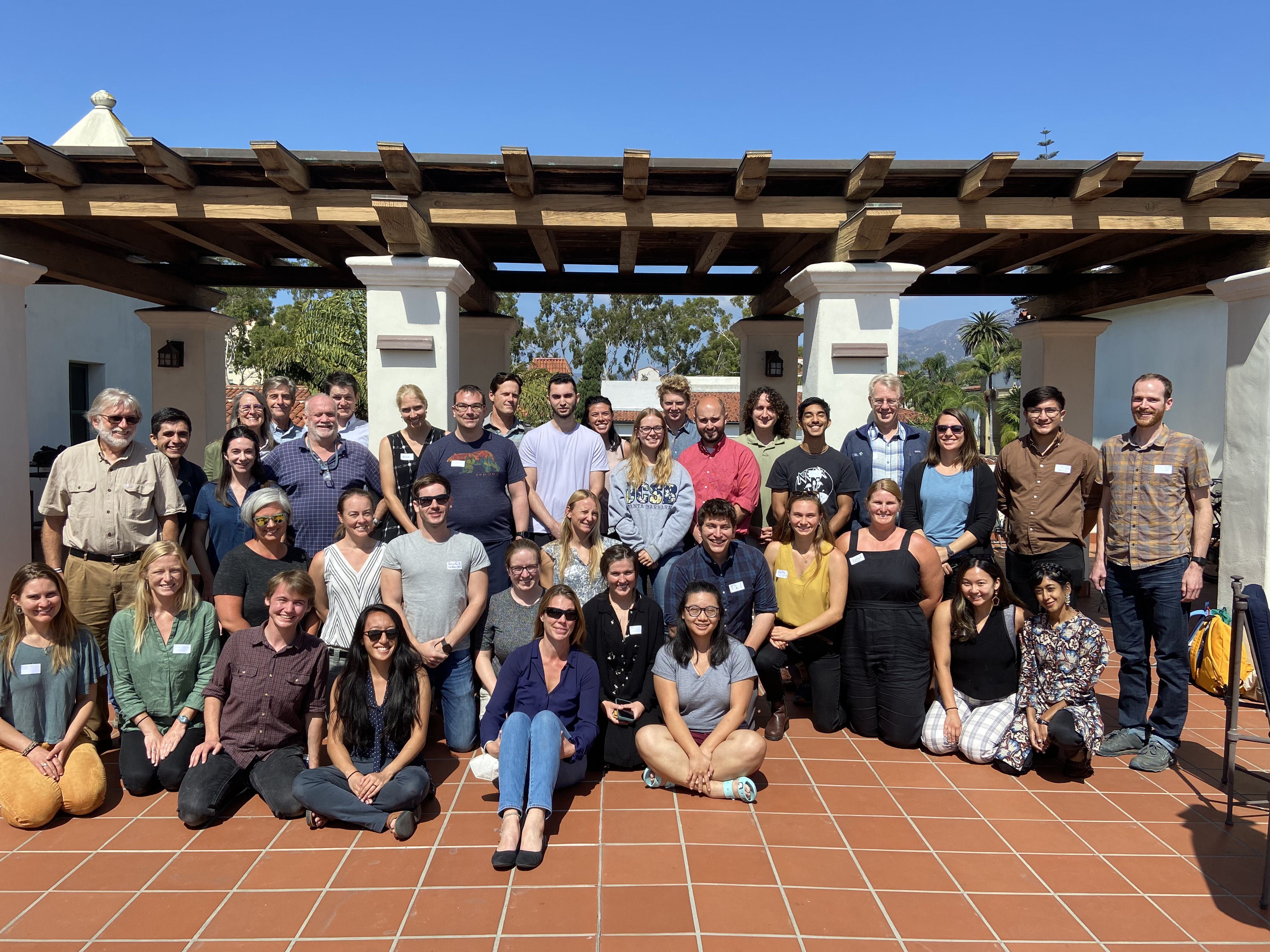 NASA, UCSB, PCI Project SHIFT
9/13/22-9/14/22 Project SHIFT Science Meeting at NCEAS with NASA, UCSB, and PCI.
©
Ginger Gillquist/NCEAS
We are excited to announce the La Fetra PCI Research Fellow Program. Thanks to a generous gift from the La Fetra Family Foundation we are establishing a conservation research fellows program for scholars working with PCI. Research fellows play a critical role in facilitating collaborations among diverse institutions and lead the execution of complex research plans to deliver scientific discoveries and findings. Fellows will work at the interface of science and TNC's conservation work at the Dangermond Preserve. We plan to bring on our inaugural La Fetra PCI Fellow in 2023.
PCI Fellow Opportunity
The Nature Conservancy's Point Conception Institute (PCI) is excited to announce that we are now accepting applications for our inaugural La Fetra PCI Conservation Science Fellow. The La Fetra PCI Research Fellow Program aims to leverage the ecological bounty of the Jack and Laura Dangermond Preserve to attract scientists who will tackle today's most pressing conservation challenges. We aim to bolster the next generation of science leaders by providing a two-year opportunity to engage in applied conservation science research. Over their term, the La Fetra PCI fellow will collect, analyze and synthesize data on endangered, threatened and special status plant and animal species, as well as threatened natural communities and ecosystems, to inform conservation strategies. Candidates with a background in coastal ecology, biodiversity, freshwater ecology, conservation technology, data science, historical human ecology and climate change are invited to apply through our applicant portal or to check out the posting on LinkedIn.
Collaborations
In 2022, PCI offered summer internships and capstone projects to a select group of graduate student researchers from the UCSB Bren School. These students recently completed projects exploring the behaviors of coastal carnivores and identifying conservation priorities along the Gaviota Coast. Additionally, two communications projects were completed by Bren School students focusing on "Discoveries at Dangermond Preserve" and "Carnivores at the Coast."
Conservation Technology
Last year, we continued to expand our preserve monitoring network by deploying several new technologies. On the operations front we deployed sensors to monitor water tank levels and to alert when problems in the system arise, saving two precious resources— water and our own staff time and capacity. We continue to find ways to increase our onsite awareness as well as generate data to help us answer and anticipate key management questions. Recently, this includes the addition of GPS trackers on preserve vehicles. Gathering information on our vehicle use patterns helps unveil the spatial and temporal use patterns on the preserve, enabling better decision making and planning. These tools and many others develop a more robust picture of our onsite operations and enable us to better steward the land.
In the research and monitoring arena we installed 14 additional wildlife cameras on the coast including five live-streaming networked cameras, giving an instantaneous view of wildlife behavior and dynamics at the coastal-marine nexus. Take a look at this video for a view into how this type of technology is changing the biosecurity game at Santa Cruz Island, and visit this website to learn more about the research behind the cameras.
Moving toward our goal of creating a water budget for the Jalama Watershed, we increased our number of groundwater sensors in the Jalama Creek watershed to a total of 19—these sensors are giving us a look at groundwater level, temperatures and, in conjunction with data from nearby weather stations, the ability to understand and estimate groundwater infiltration rates. This understanding of the water cycle, including critical water transport pathways, will be invaluable for predicting species responses to changing precipitation regimes and water availability. This growing instrumentation network is bookended with investment in cloud storage and visualization platforms, as well as analytical tools that will provide the baseline information needed to springboard even more science and conservation at the preserve.
If you are ready to submit your research data or want to see published research data from nearby, check out our Dangermond Preserve Research Repository for Data Discovery (R2D2).
We are grateful for your support of PCI's mission to harness the power of science and technology for conservation. As we begin a new year, we can reflect on the progress we've made and the dynamic research community we are building together. While these biannual newsletters are a great way to provide updates, we can't wait to be together again. PCI is partnering with UCSB Geography to host our inaugural Point Conception Institute Science Symposium on the UCSB campus in mid-March. We look forward to gathering our research community and continue learning from each other.
Cheers,
Mark
We personalize nature.org for you
This website uses cookies to enhance your experience and analyze performance and traffic on our website.
To manage or opt-out of receiving cookies, please visit our
Privacy Notice
.