Download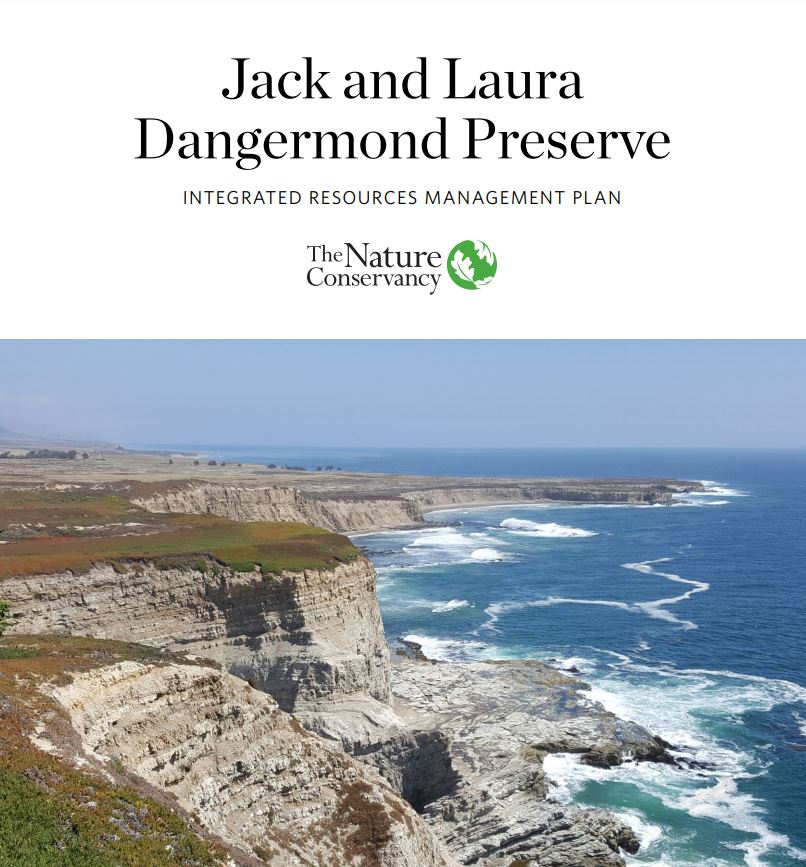 Stewardship
The legacy of land stewardship at the Dangermond Preserve began over 9,000 years ago by the Chumash people. Through an intimate understanding of their environment and knowledge gained over millenia, the Chumash nurtured and sustained a landscape where native plants and animals thrived. Over the last 250 years, from the Rancho to Bixby eras, cattle ranching has played a vital role in stewarding this land as a stronghold for biodiversity.
The Nature Conservancy now continues this legacy of stewardship by coupling lessons learned in partnership with the Chumash community and science to inform decision making and create a unique adaptive management strategy enhanced by technological innovation. 
Fire Management
The paradox of fire as a force of destruction and a beneficial practice creates endless challenges and opportunities. At the Preserve, our priority is the safety of the people, wildlife, and habitats that occur here and on the surrounding lands. We use a combination of methods to create a safe environment including cattle grazing of fine fuels, mowing and maintaining our extensive road system including evacuation routes, ensuring we have adequate water supply, and creating defensible space around the Preserve's historic headquarters at Jalama and Cojo Ranches.
Historically, fire was used by the Chumash people for the benefit of important plant and animal species. More recently, ranchers have used fire to improve forage conditions for cattle grazing. Today, we see the opportunity to bring good fire back to the land to benefit our mosaic of grasslands, shrublands, riparian, and oak woodland habitats. If done with science-based, ecological objectives, we can use prescribed fire to maintain and possibly enhance Preserve habitats that are threatened by catastrophic wildfire and remove undesirable species from the understory of oak woodlands. Good fire on the land uses a collaborative approach, working with multiple partners with diverse objectives informed by both western science and Traditional Ecological Knowledge (TEK). We hope the Preserve can bring these diverse perspectives together to learn and manage our fire-adapted landscapes.
Learn more about the Conservancy's work with fire and the TREX (TRaining EXchange) program here.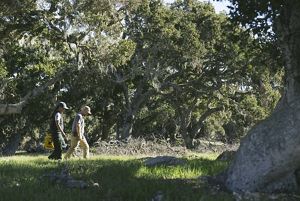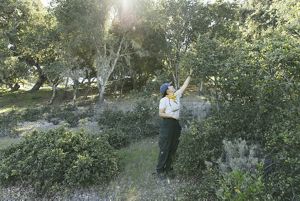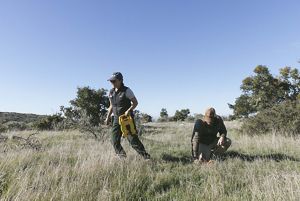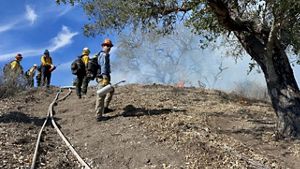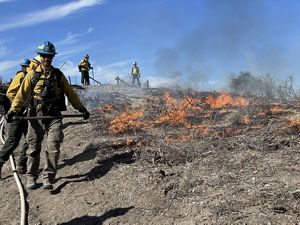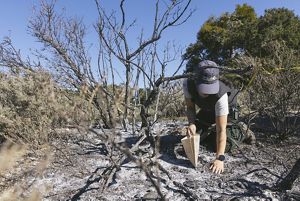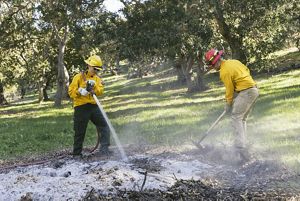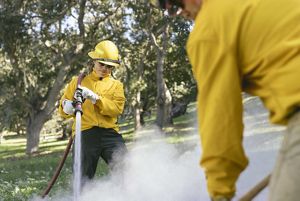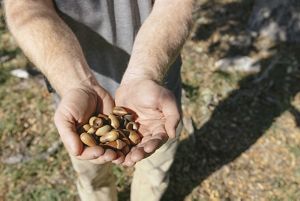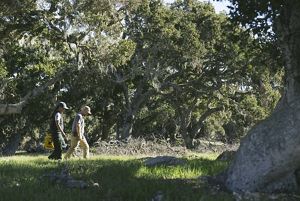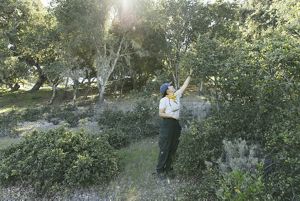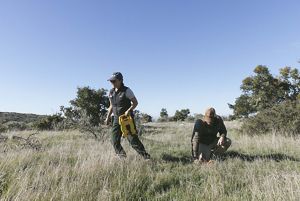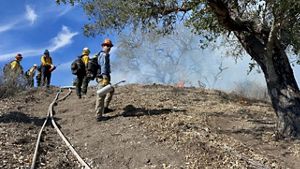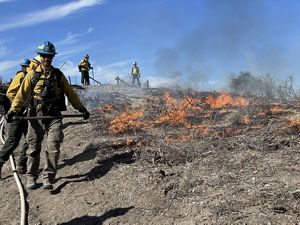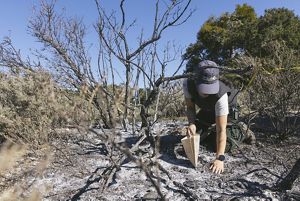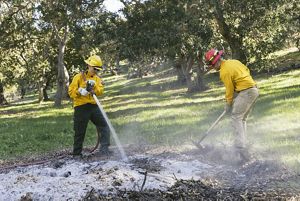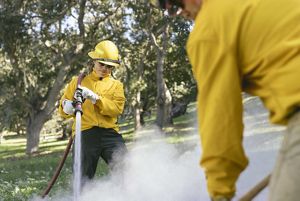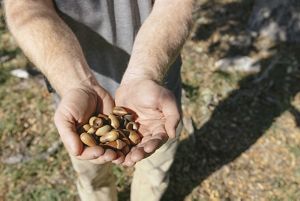 Rangeland Management and Cattle Grazing
The Nature Conservancy has a long history in California and across the western United States in using cattle grazing for conservation purposes; in California alone, the Conservancy works across ~300,000 acres of grazed lands. These legacies have supported the growth and expansion of plant and animal biodiversity in California, including at the Preserve, where grasshopper sparrows nest in the grazed coastal prairies, Western pond turtles and California red-legged frogs take advantage of cattle stock ponds, and fields of wildflowers and native bunchgrasses emerge and flourish each spring as temperatures warm and rain falls.
At the Preserve, the Conservancy is partnering with Rancho San Julian to run the cattle operation. Using conservative stocking rates together with a rotation strategy that moves cattle through the more than 20 fenced pastures, we are reducing wildfire risk, suppressing invasive weeds, and enhancing biodiversity. Cattle rotations are based on monthly assessments of forage (feed) conditions, herd health, and biodiversity indicators.
There are many perspectives in California and across the western U.S. about the role of cattle grazing in the introduction and eventual dominance of new species of annual grasses during European settlement. Take a look at this document that provides a perspective of cattle grazing across TNC's conservation portfolio.
The Nature Conservancy completed the Preserve's Rangeland Management Plan in the spring of 2020. This Plan, which nests within the larger Integrated Resources Management Plan (Butterfield et al. 2019) is intended to guide an adaptive science-based approach to cattle grazing for the next five years. During this time, Conservancy scientists and stewardship professionals will collect monthly monitoring data on biodiversity values, cattle herd health, climate, and forage (feed) conditions—to inform the number of cattle grazed and their location across the year.
The Preserve will continue to use a cow-calf operation with two herds, one that grazes the former Cojo and one on the former Jalama Ranch. This approach allows the Conservancy to maximize the benefits of cattle grazing for biodiversity while maintaining the health of each herd—including maintaining genetic lines. The number of cattle grazing the property has varied over the last ~100 years largely driven by climate and property goals. The Conservancy's main goal for the grazing program is to maintain a sustainable operation that can serve to help manage for the many biodiversity values at the Preserve.
Invasive Species
From wild pigs and plants, to pests and pathogens, invasive species threaten the Preserve's unique biodiversity. Invasive species management is not a unique challenge to the Dangermond Preserve and we are working with regional partners to address the widespread nature of this issue. Wild pigs root at the Preserve's beaches and under our oaks looking for acorns. They can also carry diseases that threaten livestock and wildlife. Invasive plants, particularly in the Preserve's grasslands, have overtaken the native species diversity that once existed creating a non-native annual grass-dominated system. In places where cattle grazing has been limited, noxious weeds like black mustard create a monoculture with limited habitat value. Pests and pathogens, while still undetected at the Preserve, can significantly impact the coast live oak woodlands and savannas.
Because efficient and cost-effective management is essential for successful invasive species management, we are taking a thoughtful approach based on better understanding the role and impacts of invasive species on the Preserve's biodiversity. We will experiment and measure results from our actions, and adaptively manage to ensure we are making positive strides in reducing invasive species' impacts at the Preserve.
Download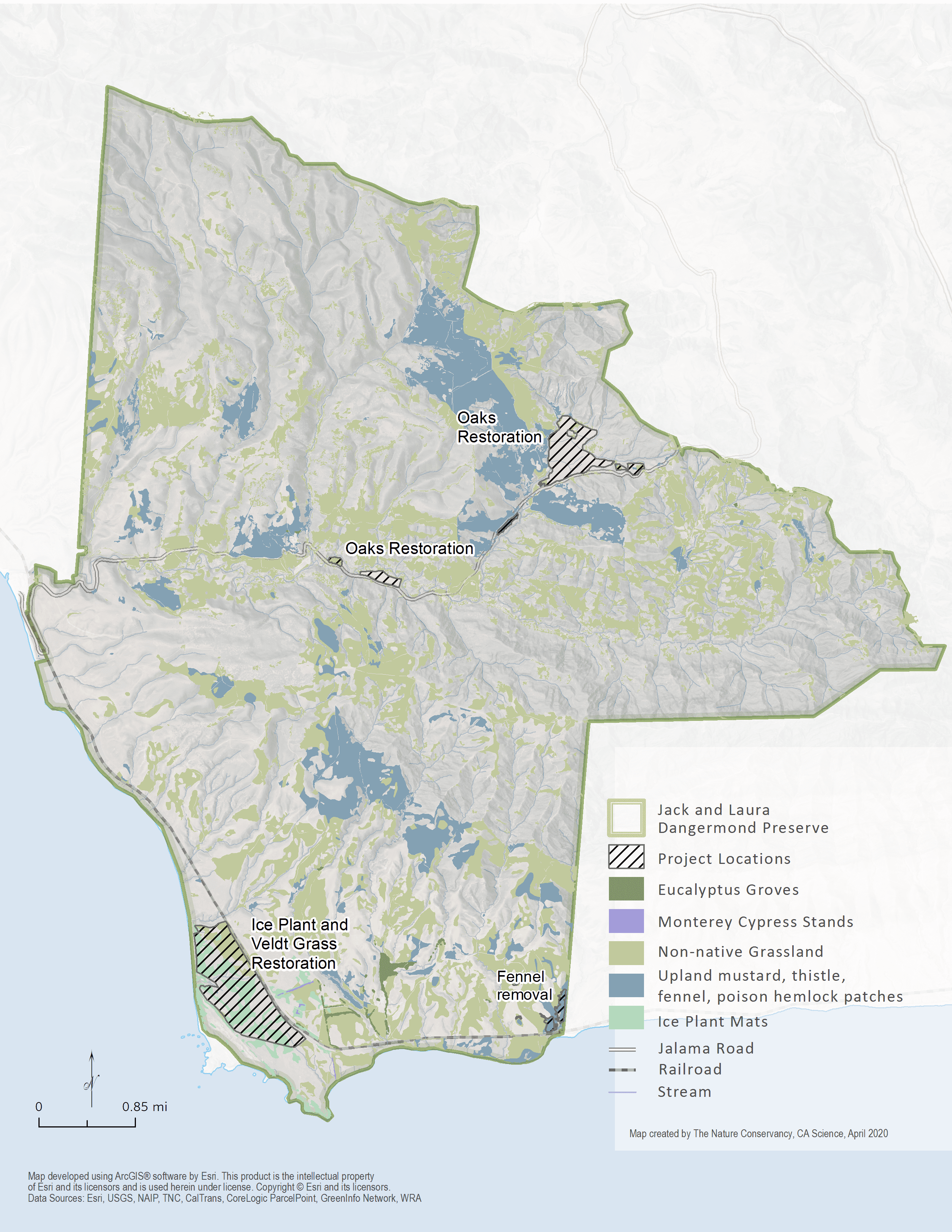 Infrastructure
Maintaining safe and effective infrastructure is a key foundational element of stewardship at the Dangermond Preserve. Hundreds of miles of roads allow for access to most areas of the Preserve; however, these roads cross streams and if not maintained can negatively impact our freshwater systems and native species. While continuing to maintain our road system, we will be experimenting with new techniques that create a watershed-friendly road network, reducing erosion and enhancing habitat for the eventual recovery of species like steelhead trout. In addition, the Preserve's water system, fences, and facilities all require constant maintenance that our team of land stewards works hard on every day.